Rise up and doughnut overcook all you knead and whisk missing out on these sweet resources from TAFE NSW Hunter and Central Coast Libraries.
From comforting tea cakes to exotic adventure bakes, Poh has all your baking need covered beautifully.
 DVD: Ciril Hitz presents better bread 
This DVD series includes Disc 1. Baguette to pretzel — Disc 2. Laminated and sweet doughs — Disc 3. Enriched doughs — Disc 4. Quick breads.
Website: All recipes – Bread recipes

No knead to worry about bread and pastry recipes, you can find them all here.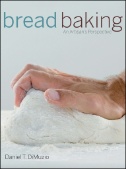 eBook: Bread baking : an artisan's perspective
A guide to making artisan breads practically and profitably, Bread baking: an artisan's perspective includes step-by-step instructions on mixing, fermentation, shaping, proofing and retarding, and baking.
TAFE NSW Username and Password required.
Oven out your baking kneads using our Baking Libguide.
This online patisserie of goods is available 24/7 for your Bakery related textbooks, magazines, websites and e-resources.
So don't be flaky, come see us at  your local TAFE NSW Library today!