Three of our EBSCO databases now include free access to thousands of Associated Press online videos.
When you use these databases you will be able to find videos about current events, historical events, famous people — including political leaders, celebrities and athletes — as well as videos related to art, music, literature, science and technology.
To view AP Videos in your searches and subsequent video pages, you should use Chrome, FireFox, Safari, or Internet Explorer 10+.
On the Hunter TAFE Library Portal select eResources then your preferred EBSCO database on the A-Z list:
Login with your DEC username and password. If you don't have your password yet, ask your library for a temporary login to use.
Finding AP videos is easy! Videos appear in your results list when you search for a topic. To browse through the latest videos, you could simply enter Associated Press Video as your search phrase.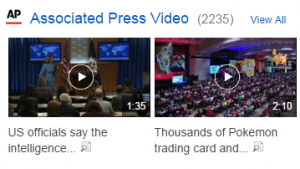 Click on a video thumbnail to watch the video and access the full details and transcript. The video will automatically start playing.
For more help:
Library staff can assist you with using databases
If you need to reference a video from EBSCO for an assessment, library staff can help with that too
Come into the library or Ask Us! online for help.