… TAFE students can get Microsoft Office 365 for free!
You will need your:
TAFE NSW username and password (you can obtain this from Library Staff or Student Services).
TAFE NSW email address to verify your enrolment (your.username@tafensw.net.au).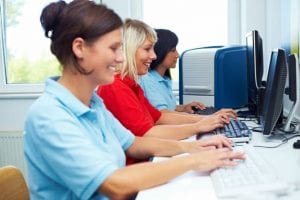 Once you have these details:
Visit office.com/getoffice365 and enter your TAFE NSW email address.  Enter other details as required by Microsoft.
You will then be prompted to access your TAFE email account – do this by going to the Student TAFE Portal –  click on the link in the email Microsoft have sent you.
Follow the prompts on how to install the software on your computer.  Tip: Make sure you have good network access when you install as the data is large and will take time to download.
Now use the Office 365 products such as Word, Excel, PowerPoint, and Publisher.  Free access to Office 365 finishes when you complete your course or are no longer enrolled.